Autoimmune Psychosis
Clinical trial
Mental illness
Neuroscience
Psychosis
Randomised trial
Research-based
Schizophrenia
Treatment trials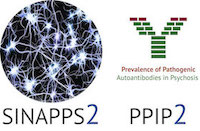 SINAPPS2 TRIAL UPDATE
31 participants
10 sites
4561 people with psychosis screened for anti-neuronal membrane antibodies in 43 Mental Health NHS Trusts in England and Scotland
Psychotic illnesses like schizophrenia and bipolar disorder are serious mental illnesses of unknown cause. There is an urgent need to discover the basis of these disorders, and to develop new treatments.  There are many lines of evidence to suggest that a proportion of psychosis has an immune basis. We are a multidisciplinary group of clinicians and researchers who are exploring this possibility, using a range of approaches.

We have found that some people with psychosis have particular antibodies that are known to cause another serious brain disorder - encephalitis.  It is possible that these same antibodies are also causing psychosis in some people, and we are undertaking research to establish whether this is the case.
We undertake clinical trials of immune therapies in people with psychosis, and experimental medicine studies to examine the interaction between the immune system and the brain.
We propose that in some patients the cause of psychosis may be antibodies binding to neuronal membrane targets (NMDAR, LGI1, GABA-A and other), especially NMDA receptors, in the brain. The hypothesis underlying the SINAPPS2 trial is that these antibodies may be pathogenic and responsible for isolated psychosis (antibody-mediated psychosis).
We are currently conducting the SINAPPS2 trial to test whether immunotherapy is an effective treatment for antibody-associated psychosis. It is a randomised phase II double-blinded placebo-controlled trial of intravenous immunoglobulin and rituximab in patients with antibody-associated psychosis. Adult patients (16-60 years old) with antibody-associated psychosis are invited to one of the NHS hospitals participating in the study, where they are assessed and assisted by a team of SINAPPS2 clinicians and researchers. Eligible patients are randomly allocated to receive either intravenous immunoglobulin combined with rituximab or placebo treatment and they will be followed for at least 12 months.  For more information about the SINAPPS2 trial click here.
SINAPPS Research Projects
Investigating the role of immune system in psychosis
Antibody Associated Psychosis
An Introduction to the Causes and Treatment.
Antibody Testing
Advice and guidance for clinicians.
Our study suggests that the only way to detect patients with these potentially pathogenic antibodies is to screen all patients with first-episode psychosis at first presentation.
- Lennox et al, 2016
RESEARCH STUDIES
Sep 2017 - Mar 2024 SiNAPPS2
Jan 2015 - Nov 2022 PPiP2
Oct 2015 - Jul 2017 SiNAPPS1
Jan 2013 - Dec 2014 PPiP1
Watch and listen about autoimmune psychosis
Related research themes