Centre for Suicide Research
Suicide
Depression
Economic recession
Epidemiology
Mental illness
Prevention
Risk factors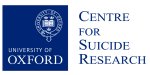 Founded in 1976
Over 400 papers published
Winners of 5 awards
The excellent work of the Centre for Suicide Research is making a real difference in the work of suicide reduction. Samaritans has found their input into the development of our media guidelines work invaluable and is proud to be working with them.

Catherine Johnstone, Former CEO, Samaritans
At the Centre for Suicide Research we translate findings about the extent and nature of self-harm and suicide into implications for prevention and treatment. We are proud that our work has had tangible benefits in terms of saving lives.
Our work has contributed to national regulations that have restricted availability of drugs used for suicide, particularly painkillers, which we have shown to have had major beneficial impacts.  We have also developed resources for people bereaved by suicide, for parents and carers of young people who self-harm, and for prevention of suicide clusters.
We collaborate with a range of researchers in both the UK and other countries worldwide and lead the Multicentre Study of Self-harm in England. We are partners in a Wellcome Trust funded initiative to reduce suicide in Sri Lanka, which provides a model for other countries in Asia.
Our  NIHR Programme Grant in support of the National Suicide Prevention Strategy has extended our ability to contribute to understand and prevention of suicide and self-harm.
Research Projects
A collaborative programme of research to support the National Suicide Prevention Strategy including qualitative research with parents of young people who have self-harmed, an analysis of drug toxcity and resources for parents.

A national collaboration to provide a basis for studies of self-harm in England

A community-based trial of safer storage to reduce pesticide self-poisoning in rural Sri Lanka

A free, downloadable guide for parents and carers who have discovered a young person's self-harm
Other CSR Members
Fiona Brand - Research Nurse
John Ryall - Research Assistant


Resources
Resources for the Public

**NEW** Free downloadable Guide for Parents and Carers of young people who have self-harmed.
Descriptions of parent experiences for parents and carers of young people who have self-harmed, including video and audio clips illustrating their stories. This was developed by the CSR in collaboration with Healthtalk.org.
 The CSR has contributed to the updating of Help is at Hand, a resource for people bereaved by suicide which was originally developed at the CSR. A PDF copy of Help is at Hand can be downloaded here.

Resources for local authorities
The CSR developed a new toolkit giving information and advice about suicide clusters, in collaboration with Public Health England. Download the guidance here.

Resources for clinicians
The CSR has developed a guide to aid clinicians in the assessment of suicide risk in people with depression. Assessment of Suicide Risk in People with Depression: A Clinical Guide.
Resources for THE MEDIA

Useful information on media reporting can be found here.

Related research themes