Centre for Suicide Research
Depression
Economic recession
Epidemiology
Mental illness
Prevention
Risk factors
Suicide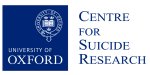 Founded in 1976
Over 400 papers published
Winners of 5 awards
"The Centre for Suicide Research has had an outstanding impact on the prevention of suicide and self-harm in the UK and internationally, conducting studies of the highest quality that have brought new insights and helped shape policy and practice. The range of research – from epidemiology to bereavement support, from young people to NHS staff, is extraordinary."
Professor Sir Louis Appleby, Director of the National Confidential Inquiry into Suicide and Homicide by People with Mental Illness
At the Centre for Suicide Research we translate findings about the extent and nature of self-harm and suicide into implications for prevention and treatment. We are proud that our work has had tangible benefits in terms of saving lives.
Our work has contributed to national regulations that have restricted availability of drugs used for suicide, particularly painkillers, which we have shown to have had major beneficial impacts.  We have also developed resources for people bereaved by suicide, for parents and carers of young people who self-harm, and for prevention of suicide clusters.
We collaborate with a range of researchers in both the UK and other countries worldwide and lead the Multicentre Study of Self-harm in England. We are partners in a Wellcome Trust funded initiative to reduce suicide in Sri Lanka, which provides a model for other countries in Asia.
Our  NIHR Programme Grant in support of the National Suicide Prevention Strategy has extended our ability to contribute to understand and prevention of suicide and self-harm.
Other CSR Members
Fiona Brand - Research Nurse
John Ryall - Research Assistant


Related research themes